We are delighted to announce a new show at The Gallery at Plymouth Public Library.  Natural Phenomenon, an exhibition featuring the work of Barbara Léger, is now on display.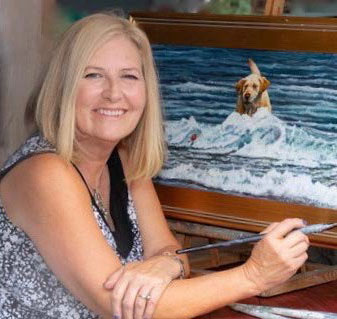 Barbara Léger is noted for her intrinsic talent to capture emotion enveloped in nature. She has a long history of classical training, formally and in studio, with a strong concentration in oil painting.
Ms. Léger has also been trained through a Master Apprenticeship Program. Barbara is a Master Marine Oil Painter with the International Society of Marine Painters and a member of Oil Painters of America. She is an integral part of the resurgence of the illuminist movement. Her work is showcased at Premier Galleries along the Eastern Seaboard, featured in Nantucket at the Vanderbilt Gallery. Ms. Léger has been featured in numerous magazines, among them, Nantucket Only, American Art Collectors, Cape Cod Art and American Art Review to name a few. As realist, Barbara paints emotion and moments in time with contemporary styling. Through years of honing her craft, she is able to capture the subtleties that give her work the distinction of sharp focus realism synonymous to the effect of a camera.
"I am inspired by nature and the interaction of living beings in nature. As a Master Marine Oil Painter my concentration is focused on the ever changing coastal waters, ocean, lakes and streams. My work begins with inspiration from nature and moves to composition. I nurture the work with devotion and once named and signed, I send it out into the world with the intention of bringing joy."
To learn more, visit her website at www.barbaraleger.com.
The art on display is for sale and 10% of the sale price from each painting is generously donated by the artist to the Plymouth Public Library in support of our ongoing efforts to promote the arts in our community! If you are interested in purchasing any items, please contact Anne Phelan, 508-830-4250, x 216. To view or download a price list, click here.